This post is also available in:

עברית (Hebrew)
Israel's Rafael Advanced Defense Systems Ltd., a global leading defense company, has signed a teaming agreement with ROMAERO, Romania's largest government-controlled Aerospace & Defense Industry on May 16, 2018. As part of their new partnership, Rafael and ROMAERO will consolidate a local partnership to facilitate local production and knowledge transfer geared towards various Romanian acquisition programs.
The cooperation will enable collaboration in bidding for the tenders that will be published in the future by the Romanian Ministry of Defense.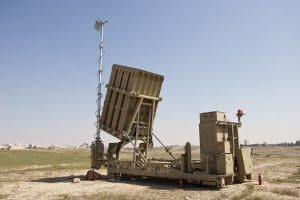 The new cooperation will address the Romanian Army's operational requirements in the upcoming programs already approved by Romania's parliament. These include:
Air defense systems – the combat-proven Iron Dome system, with over 1700 combat interceptions at a success rate of over 90% and the combat-proven SPYDER air defense system, already supplied to India and to other countries around the world, and the C-Dome Naval Air Defense System, aimed at equipping Romania's four new corvettes to address Romania's SHORAD and VSHORAD programs;
Remote Weapon Stations – the SAMSON 30mm caliber, with 25 customers around the world. SAMSON is being offered for Romania's 400 Rheinmetall vehicles;
EO, Precise Tactical Missiles – SPIKE – a family of electro-optical precise tactical missiles including its brand new SPIKE LR 2 5th generation missile. SPIKE Family missiles have been sold to 29 countries, with 30,000 missiles already supplied.
Rafael said they will be working with the new partners at ROMAERO as a strategic partner to create new avenues of cooperation with local Romanian industry and suppliers to establish technological advancement, local production and capabilities.
ROMAERO stated that together they will be able to extend reach and sales internationally, for state-of-the-art systems produced in Romania and suitable for any platform, to fulfill Romania's needs and requirements.