This post is also available in:

עברית (Hebrew)
The vast array of innovative unmanned vehicles exposed by MAFAAT, Israel's Ministry of Defense Research and Development Agency, reflects the desire to create power multipliers for the armed forces while minimizing the risk to the soldiers confronting the future battlefield.
Some of the latest technologies in the field of unmanned systems will be showcased at the forthcoming leading conference on Autonomous Unmanned Systems and Robotics – AUS&R 2017
A large portion of the projects is developed as an intensive collaboration between MAFAAT and a large number of startups that offer creative ideas, out of the box thinking and agility. Many of the developments will mature and, after feasibility proof and tests – will be integrated into the armed forces units.
Next generation drones developed by MAFAAT includes the Duke – a sniper drone for accurate shooting surprise attack. It is a drone carrying fire arms intended to lower the risk for the soldiers. The system will be tested during the next year.
In the ground vehicle sphere, alongside the UGVs already operated by the IDF for border patrol, delivery and logistics missions, the focus turns now to the search for military applications of the civilian autonomous car technology. IDF's future autonomous vehicles will be capable of driving through harsh terrain and be equipped with remote firing capabilities.
Alongside the unmanned vehicles showcased by MAFAAT stands the Carmel, a revolutionary manned tank, IDF's innovative next tank. The Carmel is a small hybrid stealth tank, quick and easy to operate. It will be operated by only 2-3 soldiers and it will possibly have also a revolutionary unmanned version. The tank is developed by MAFAAT in collaboration with the Ministry of Defense Tank Agency.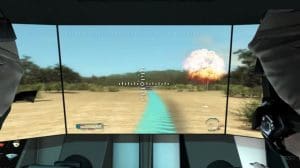 Learn more about unmanned vehicles at the leading conference on Autonomous Unmanned Systems and Robotics – AUS&R 2017. The fifth unmanned systems event – the conference, exhibition and the land, air and naval unmanned systems demonstrations – will be attended by Israel's top figures, IDF high-rank officers, senior defense industry officials, entrepreneurs and leading experts.
The event, organized by iHLS, will take place on September 18th, 2017 at the Lago Conference Center in Rishon LeZion.
Booth/sponsorship: Keren Kalderon  [email protected]i-HLS.com   +972-52-3653165