This post is also available in:

עברית (Hebrew)
Terrorism and crime pose a direct threat to the security of citizens worldwide, and to international stability and prosperity. It is a persistent global threat that knows no border, nationality or religion. RayZone Group delivers boutique intelligence-based solutions for national agencies coping with these challenges.
RayZone Group utilizes intelligence expertise, operational experience, with the help of in-house engineers to deliver boutique intelligence-based solutions for national agencies worldwide. Along with delivering flexible solutions, RayZone Group's focus is on improving awareness of the threat, developing capabilities to prepare and respond, and enhancing government agencies' capabilities. 
This is why their methodology is to offer a holistic ecosystem comprising three solution types – stand-alone systems, integrated systems, and end-to-end turnkey national projects – to fill in the missing pieces. While providing a comprehensive solution portfolio, they also deploy an agile and forward-thinking approach to deliver the right results – effectively and efficiently.
In creating this ecosystem, RayZone incorporates a methodical approach that redefines data collection and brings intelligence gathering and analysis to new levels. Although extensive communications know-how led to their development of a range of remote and proximity solutions that enable easy accessibility without connectivity, RayZone doesn't expect any single system to present the full intelligence picture. Instead, they offer a platform that integrates in-house systems, third-party systems, and customer databases into a unified whole, leaving end-users with "one-click intelligence deployment" at their fingertips.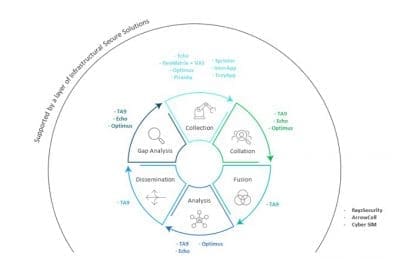 RayZone's Portfolio Systems include:
TA9 IntSight 
Big-Data Intelligence and Investigation Platform.
As a Big-Data Intelligence and Investigation framework, TA9 IntSight integrates data from a variety of sources to produce crucial insights from the organization's mass of data as well as implement their best practices and workflows 
GeoMatrix 
SS7 Protocol-based Geolocation.
GeoMatrix remotely locates 2G/3G/4G mobile subscribers, covertly providing accessibility without connectivity, on a global scale. Harnessing the same technology, a number of Value Added Service Features provide a number of tools for target control. 
Echo
Enriched ADINT Collection and Investigation System.
Echo is a strategic ADINT based collection and investigation system that remotely provides intelligence and law enforcement agencies wide, diverse, and in-depth knowledge on global smartphone users, both historical and close to real-time. 
Optimus Family
With a holistic approach to OSINT collection and analysis, the Optimus Family is a suite of solutions that leverage the vast amounts and types of data, available from all layers of the web, to put together an effective intelligence picture. Whether in a modular fashion or as a whole, this suite provides the ability to manage public opinion and targets, uncover fake news or data from the darkweb and perform active operations online. 
Sprinter
Tactical Active 2G/3G/4G/5G Interception System.
A tactical cellular MITM Interception system, Sprinter stealthy intercepts and records voice calls, text messages as well as retrieves a target's location.
Piranha
2G/3G/4G/5G SDR IMSI Catcher.
Piranha is an SDR (Software Defined Radio) collector of mobile phone identifiers (IMSI & IMEI) in 2G, 3G, 4G and 5G environments.  
ArrowCell
Detector, Preventor and Locator of IMSI Catchers.
ArrowCell detects the presence of an IMSI catcher to ensure its users are not only aware of surrounding threats, but also able to disrupt and locate their attacker. 
RayzSecurity Division 
RayZone Group's cybersecurity Division includes best of breed cyber security solutions composed of devising cybersecurity methodologies, services, solutions, and products. RayzSecurity's unique methodology empowers traditional cybersecurity with Mil-Grade Intelligence solutions.