This post is also available in:

עברית (Hebrew)
Early Stage, Deep Tech is the moto guiding the unique activity of Incubit, an Israeli startup incubator cultivating young startups making their first steps, with a super-technological and scientific orientation.
In the technology realm, open innovation means active and open cooperation between corporations and external entities, e.g. industries, academic institutes, business partners, professional communities, startups and government organizations. Incubit, a subsidiary of Elbit Systems, applies this strategy in practice, mediating between startups and corporations. In fact, the incubator gaps between the strength of the corporate and the flexibility of a startup.
While before the internet age, defense industries were at the forefront of technology, currently, the origin of innovation is first and foremost the civilian, commercial realm. Within this context, Incubit has found a unique way to cultivate civilian technologies, operating on the basis of non-competitive synergy. Among other examples, the incubator operates in synergy with iHLS Security Accelerator.
Incubit startup incubator is part of the Israel Innovation Authority's technological incubators program, and its location at Be'er-Sheva follows the Authority's vision regarding the development of peripheral regions. Its impressive portfolio so far includes 15 companies from a wide range of technological verticals and markets. During the first six months of 2019, Incubit has invested in four startups, and intends to reach the total of six by the end of the year.
The incubator is led by CEO Oren Gadot; VP Business Development Ayelet Ben Arav, and CTO Nir Liszer.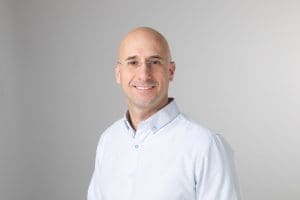 Incubit's Unique Model
Incubit operates according to a unique model that differs from the one characterizing CVCs. Guided by the moto: Early Stage, Deep Tech, Incubit invests in startups that are:
Early stage – when there is still no POC and the investment risk is high.

Deep tech – highly technological startups. Projects that deal with deep technology based on science, that require a long development process and resources, are hard to reproduce and are not obvious. Their innovation is more technological and less functional, market-oriented and return on investment-oriented.

Multi-disciplinary.
The fact that Incubit is supported by Elbit's resources gives it important advantages in comparison to VCs, and as a business strategy it follows a technological, rather than financial orientation.
In addition, Incubit, and first and foremost the entrepreneurs, enjoy Elbit's instruction and consulting by expert engineers, access to the company's installations, labs, equipment, etc., an advantage that is not found with other VCs.
Incubit's team meets more than 200 startups every year in order to select the most promising ones. Incubit is a strategic investor which concentrates on technology. The incubator's investment in each startup reaches $1.3 million over two years with an option for a third year.
Incubit supports the startup from concept through POC and into product launching and initial commercialization.
Incubit and Elbit Systems
Incubit is an incubator of Elbit Systems, a technology giant with years of Israeli and world experience. The products developed by the startups supported by Incubit are not directed at the defense market. However, the incubator seeks technological synergy, investing in fields that are relevant to Elbit Systems, which operates as a strategic investor in the startups.
In fact, Elbit Systems is both a potential customer for the startups and the resource for financial investment, expert consulting, labs and equipment, assistance in acquisition.  In addition, Elbit's technological experts help the incubator in evaluating the levels of innovation and maturity of the candidate startup ideas.
Ideas that are still at the academic world can also apply to the incubator. Among others, Incubit is looking for technologies in academic researches and research groups that conform  its fields of interest. In these cases, agreements with the universities' technology transfer companies are required.
Business Development
In addition to supporting research, the incubit helps the startups in business development.
Incubit's Portfolio
Incubit's diverse and multi-disciplinary protfolio encompasses 15 companies: three mature companies, three at the round A stage, and additional companies. The incubator's mature companies are:
L7Defense – Develops a dual-use technology for cybersecurity of web networks against DDoS attacks. Bots made of millions of devices ("IoTs") are currently becoming AI driven. They can shutdown data center operation in seconds, while traditional firewall technologies are lagging far behind. Ammune developed by L7 Defense identifies the most complex malicious "patterns" from the traffic that aren't even visible to other tools. The solution protects from the most dangerous AI-driven IoT bot attacks as well as from previous generations of botnet technologies, as a standalone system, an embedded system or a cloud solution.
It is a real-time "unsupervised learning" technology inspired by the natural immune system that performs without a need for pre-training.
The company is already in the profit stage.
NewRocket – The company that focuses on the civilian satellite (new space) field develops advanced, environmentally friendly ("Green Propulsion") rocket engines based on innovative gel-propellant technology.
Conventional rocket engine technology in either solid or liquid form has many risks, including high toxicity, transportation challenges and produces rockets that are difficult to control or extinguish. NewRocket's solution under development is a proprietary gel technology enabling a stable and non-toxic engine propellant, without sacrificing performance and control. The company which successfully completed a proof of concept for the technology is associated with the Technion – Israel Institute of Technology. Its technology is designed to meet the strictest industry regulations.
Echocare Technologies – A portfolio company of Incubit in the Health field, developing a non-wearable RF-based elderly-care ​home monitoring system that automatically alerts safety and emergency situations. Their ECHO system is a machine-learning based system that includes a disruptive fall detector with a very low false alarm. The system also detects and alerts on other emergency situations, such as sleep apnea, hyperventilation, abnormal situations, and change from elderly daily routines.
Facing the Future
Incubit continues to strive for the cultivation of young technological entrepreneurship, in order to grow successful technological companies. As Ben Arav and Liszer conclude, the current fields of interest of the incubator are mainly optics, artificial intelligence, and augmented reality. Young startups with science-based technology in these fields could find in Incubit the incubator to grow in.