This post is also available in:

עברית (Hebrew)
Israel is now threatened by a complex challenge, and the advent of precision weapons is a game changer. This was the message of the presentation by Moshe Patel, Director, Israel Missile Defense Organization, IMoD, at the 8th Israel Air and Missile Defense Conference and Exhibition organized by iHLS, IMDA and ISAA yesterday, December 2.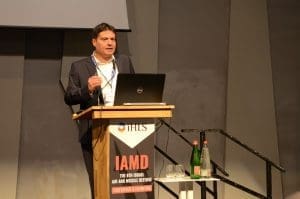 According to Patel, the Iranians exert influence over the whole region. The high volume of statistical threats on Israel call for a different deployment. Precision level is improving basing on very simple means, and the navigation systems now used by the enemies are capable of bringing the munitions to strategic targets, we have to act in accordance with this situation.
Coping with the wide range of threats, Israel employs a multi-tier defense system which includes, among others, the Iron Dome, David's Sling, Arrow 2 and Arrow 3 systems. The systems are interconnected and share information.
During 2019, the Arrow 3 passed a very successful test series in Alaska, including a first interception test with interoperability to American systems.
Since it started operational activity, Iron Dome system has executed more than 2000 successful interceptions. Recently, the capability of launching Iron Dome from an Israeli Navy Saar 6 Corvette was added to the arsenal. 
Patel concluded: Missile defense is a critical and central issue for Israel when thinking about the next decade, and it is also based on a real partnership with the US.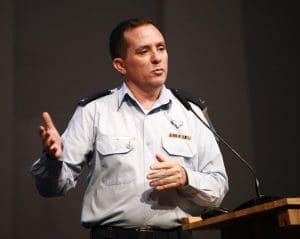 Brig. Gen. Ran Kochav, Commander, Air Defense, IAF, who received an honorary award on behalf of Israel's Air Defense array at the occasion, said: Israel is coping with a multi-arena situation, which has now become simultaneous. This is the challenge now. It is important to understand that with regards to air defense there is no hermetic defense. 
There are trials to challenge us, the enemy is sophisticated, trying to challenge us with various methods, types of targets, tempo, quantities and angles. The challenge is also our logistic capabilities in renewing inventory at any point at time.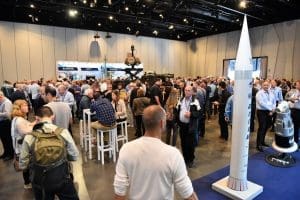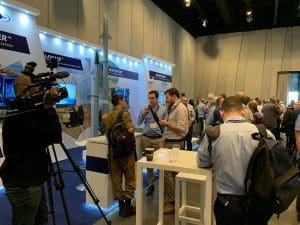 We are instructing the forces in order to prepare them for the operation of the complex and advanced systems. We want combatant air defense soldier which can deploy systems, and has the capabilities of a genius that can take rapid decisions within 10-15 seconds.
Women constitute nearly 50% of the air defense combatants, including battery commanders and deputy battalion commanders.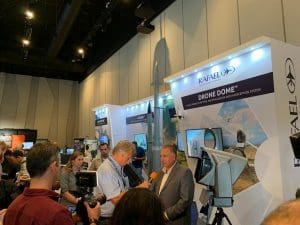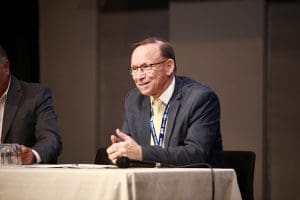 We are on a learning race vis a vis an enemy with growing power and proven operational capabilities, but it is not perfect. there is no hermetic defense. Despite of 160 successful interceptions there can be also failures, defense is not perfect at the northern border.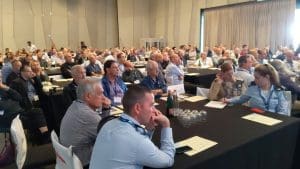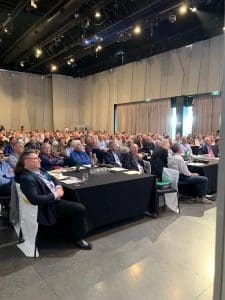 Regarding the human role, he said: Many people believe that Iron Dome System does the interception. These are the combatants and technicians, man in the loop, that are responsible for the operation, as in most cases operation is not automatic.
The conference also hosted speakers including former air defense commanders and Israel Missile Defense Organization directors, high ranking officers from the Home Front Command, speakers from leading organizations and industries from Europe alongside representatives from IAI, Rafael, Elbit Systems, and more.
The exceptional, comprehensive exhibition showcased a wide variety of capabilities of the leading defense industries against missile, drone, and other threats.
The event was concluded by former Minister Dan Meridor, who said: The Israeli response to the nuclear threat is based on three principles: Thwarting (as in the operations in Iraq, Iran), air and missile defense, and deterrence.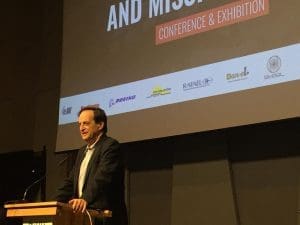 The nature of war has changed globally, there is a large number of enemies, including non-state actors, and wars concentrate on causing mutual damage. This turns the home front into a central front. Technology has empowered the individual, and the combatant role has become much more technological. We must adjust to the changing situation.